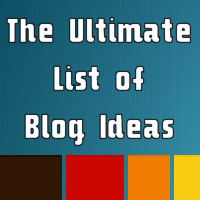 I don't mind it when people have a list of blog ideas, but one of my specialities is being consulted by individuals and companies to generate a list of ideas for them to use. It takes researching each niche to make it happen. One of the most frequent questions I get is ideas for content creation. I've given a lot of general ideas that businesses can be spun into a multitude of topics, but this is my ultimate list of blog ideas.
Why is it an ultimate list? Well, I've decided that this is a series that can be slopped all into one article… so that means, there will be a list of links to each of the niche. It also leaves room for me to come back to this post, edit and even add more types of blogs.
I'm pretty excited to share my list as there are hundred of possibilities, meaning that hopefully you won't run out, or by the time you do, you will be so use to writing that you can either suggest topics in the comments, OR just continue having fun blogging.
I really hope that this list will be helpful and that you share this series with as many people as you can. I remember when I started blogging years ago, that there was no one to prompt me. I get ideas from everywhere and because I have a passion for writing, and a need to help others, this is another of those articles I'm happy to share with you.
This list is intended to help anyone that needs ideas for content creation, normally bloggers who are just starting out or fairly new to blogging. It's quite fine to check out the ideas if you've been blogging for a while. In fact, don't hesitate to jump in with a suggestion or two or more. 🙂
If one of the list items is not linked, it will be when the article is published. That just means that you'll have to come back, so I encourage you to subscribe to my weekly newsletter.
Oh, and P.S. – I've put the target to open in a new window so you can always have this post open, in case you have a website that encompasses several niche.
The Ultimate List of Blog Ideas
Sports Bloggers
Car Bloggers
Graphic Artists
Hotels
Law Offices
Web Hosts
Social Media Consultants
Doctors and Physician Assistants
Hospitals
Rotary Clubs
Churches
Political Websites
Charity Organizations
College Sorority and Fraternity Chapters
Banks
Karate Dojos
Fitness Gyms
Yoga Instructors
Nutritionists
Health Bloggers
Fitness Bloggers
Daddy Bloggers
Financial Bloggers
In the case this list doesn't have a niche that you're interested in, please do leave a comment below and let me know so I can cover it in the future.