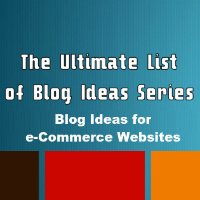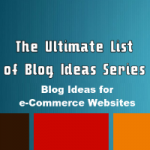 Sometimes people who run e-Commerce sites often feel like if they blog, their posts end up sounding promotional. Sometimes, they may be, but with a little creativity, an e-commerce website owner can pull together a well-rounded blog. There's a lot that can be written about, but sometimes it's hard to think about it, especially if writing isn't really one of your talents.
In this part of the Ultimate List of Blog Ideas series, I'll be sharing some blog ideas for e-Commerce websites.
From many of these blog ideas for e-Commerce websites, you should be able to generate countless more blog posts.
Blog Ideas for e-Commerce Websites
Product feature
Roundup of news surrounding the niche that the products are in
Video how to or tutorial on how to use a product
Feature on how a customer is using product in a unique way
Comparison of products on site versus similar products on other websites
Interview with experts and their experience with the product(s)
Social media case study of how a specific campaign for a product turned out
Specials for holidays
Product review
Question and Answer feature (ask customers to ask you questions)
Upcoming news
Upcoming products
Showcase social network handles
Giveaway
Promote newsletter list
Talk a little about your company
Talk about your company's values
Talk about your company's policies and methods
Introduce members of your company
Feature on industry trends
Feel free to make more suggestions in the comments below. I definitely don't mind adding to this list if you have some good ones. I hope these ideas help!
If you run an e-shop, and have published some unique posts, tell us about it below, and tell us how did your audience responded to these articles. Feel free to also share any tips as I'm certain other e-commerce website owners will appreciate them.