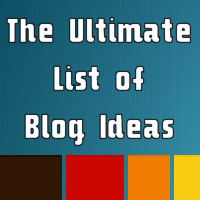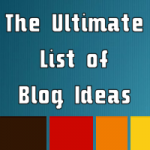 In continuing with my Ultimate List of Blog Ideas series, this article will cover blog ideas for travel bloggers. Travel bloggers are a fun bunch as their niche can be as small or big as they want. It can be focused on traveling to religious places, for sports, or just for leisure. This niche also can get away with doing some of the ideas listed on the Blog Ideas for Food Bloggers post because when traveling, there's a lot of different foods to discover.
A travel blogger has to be detail oriented and really choose places that will spark interest with their audience. So, below, I've listed some blog ideas for travel bloggers. If you are a travel blogger or considering on becoming one, I hope this list helps generate more ideas.
Blog Ideas for Travel Bloggers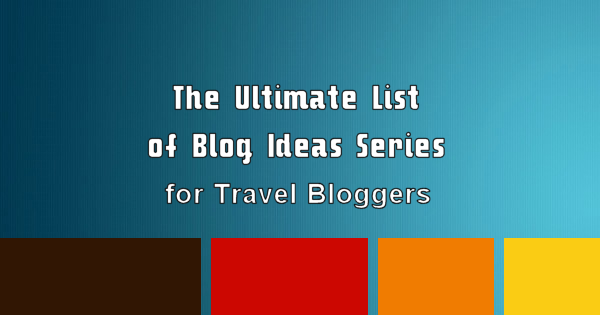 History of a specific location
Sharing cultural sports
Feature cultural foods
Tips on traveling to a specific city, state, province, or country
Basic phrases heard in each country
Interviewing important people from certain locations
Covering cultural events
Sharing cultural dances
Tips on transportation used during travel
What to pack for specific trips
What not to do in certain travel locations
Etiquette tips when speaking with locals in certain travel locations
Features places that a lot of other people see as unique, in an odd or weird way
Tips for going on a cruise
Roundups for specific locations for any event (dates, romantic getaways, holidays)
Roundup of places in certain cities of things people can do on the fly during a business trip in order to experience the location, but still get work done
Tips on saving money while booking a trip (business, vacations, etc…)
Review or Comparison of online trip booking sites
Roundup of the best guided tours or group travel tours
Review of guided tours or group travel tours
Etiquette on what to wear in specific locations, especially certain countries
Review and coverage of theater performances while traveling
Feature museums
Share insight on world crisis in any area of the world
Participate and cover a cause in another country
This list could change, as I like to add to it from time to time. I also like to take suggestions. If you do make a suggestion, please make sure that it hasn't already been mentioned.
For travel bloggers, I hope this helps you. Please note when I say "certain locations", it could be anywhere. It's important to keep your mind open. It doesn't matter if you have a travel blog that only covers your own country… keep your mind open to the endless possibilities and always be ready to ask locals on what you should check out. "The world is your oyster"…. go and open it right up!