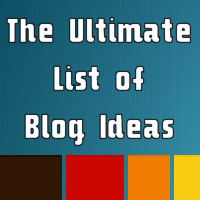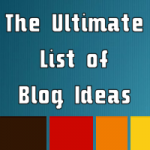 Fashion bloggers are a fun bunch. They often love clothing and have a passion for learning about the materials, how the clothing was put together, and even the designer responsible for such creations. This post is dedicated to sharing ideas for those either wanting to become a fashion blogger, or are in the niche, but having a little trouble coming up with something fresh. It's part of The Ultimate List of Blog Ideas series.
Some of these blog ideas for fashion bloggers can be spun different ways. For example, you can put together a roundup (list of items or links) to style picks based on if the style is intended for a certain occasion, or best suited for a specific season.
Feel free to use any of on this list of blog ideas for fashion bloggers. Also, you're welcome to suggest an addition to this list.
Blog Ideas for Fashion Bloggers
Event coverage for Fashion Week (video and pictures)
Case study on clothing design (example: kimono making, making clothing patterns, etc…)
Interview with a clothing designer
Style roundup for the season
Style roundup for a specific occasion (holiday, a date, graduation, etc…)
Feature a biography of a clothing designer
Do it yourself clothing and accessory creation
Roundup of stylish accessories (rings, necklaces, bracelets, shoes, handbags, etc…)
Roundup of stylish accessories based on a specific term (like 'cute' or 'elegant' or 'edgy')
Roundup of stylish accessories for the season or a specific event
Feature of a unique clothing boutique and its owner
Event cover of a local or area fashion show
Feature the history of a specific type of clothing style
Feature the history of a specific type of accessory
Interview with a Model
Feature a biography of a Model
Stylish roundup of clothing from a thrift shop (shopping on a dime)
Roundup of posts from other fashion bloggers' articles
Fashion event announcements
Style Tips- what to do and what not to do
Clothing review
Video roundup of recent fashion events
Clothing style suggestions based on body type
A lot of times, fashion bloggers can get away with tying themselves in with health and beauty bloggers, specifically ones dealing with applying makeup. For example, a fashion blogger could write a topic on a feature outfit they put together and suggest accessories, how to do makeup, and even nail art that would tie in well with the clothing.
Again, if you have a suggestion, feel free to leave a comment below. 🙂