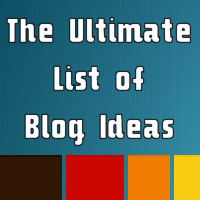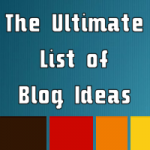 Photographers and photography bloggers are a great niche that usually shares a lot of pictures and concepts in taking photos. This article is part of The Ultimate List of Blog Ideas.
The goal of making such a list for photography bloggers is:
For new bloggers in the niche of photography, this list can become a nice little guide to consult.
For prospect bloggers in photography nice, this can help the blogger decide if they wish to start a blog as it takes a lot of time creating content.
For photography bloggers who have been in the niche for sometime, and coming up with topics is becoming quite difficult, this list might be a great cheat sheet to jump start the content creation process once more.
Please note, that this list can be updated at any time as more ideas are added in the future.
Blog Ideas for Photography Bloggers
Reviews on camera and video gadgets and their gear
Concepts and theories in art in regards to photography and video
Photo review of photos taken
Photo review of photos taken by other photographers and photo bloggers
Seasonal feature photograph roundups
Stock photo roundups
Holiday feature photo roundups
Photo documentary for special interest projects (example: charities, disaster relief)
Online tools for manipulating or digitally enhancing photos or videos
Interviews with photographers or interesting/ photo bloggers that have authorities
News roundups from around the web in the photography niche
Video tutorials on photography and video techniques
Written tutorials that include photos on techniques in the niche
Feature post Funny and interesting videos from around the niche
Case studies
If you're a photographer or photo blogger, feel free to add suggestions below in the comments. Let's stop bloggers block from occuring. 🙂
If you have have looked over this list and have covered everything, you can still recycle some of these ideas, like the tutorials, reviews, case studies, and roundups to generate countless posts.
Good luck and happy blogging!