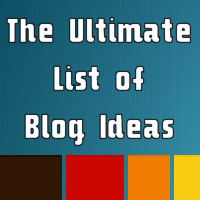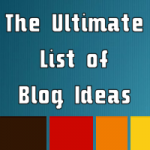 The niche in tech blogging can cover many different topics. Some can be news in tech, some are about gadgets for the home or for the computer, and much more. This blog ideas for tech bloggers post was an actual request.
So, I'm not going to split it up. Use whatever ideas you need. Like much of the Ultimate List of Blog Ideas Series, this one also allows you to take any single idea and generate tens or even hundreds of posts.
Blog Ideas for Tech Bloggers
Feature on product of service
Interview with an inventor of product
Interview with a tech startup
Review of product or service
Roundup of top product or service of a certain kind or type
Roundup of top suggested products or services for a holiday
Creative uses for a product
Recent news in the industry
Tutorials on how to use a product
Articles on Tech terms to know
Tech event coverage
Tips for using gadgets (example: home cleaning gadgets, computer accessories, etc…)
"How to" articles (example: building something using a specific product)
Interviews with celebrities that endorse the tech products or services
Opinion column or posts on how a specific gadget or service needs to improve
How technology is shaping the future
Feature on children and how tech is helping them
Feature on tech helping to aid environmental issues
Feature on tech helping to aid humanitarian projects
History of a type of technology, or even gadget
If you have any ideas that you believe should be on this list, please leave a comment below. Please note that your idea shouldn't be too specific, as this list is not directed toward a single corner of the tech blogosphere. However, I'm quite open to suggestions and if it's a good one, it could be added. 🙂
Are you a tech blogger? Do you find these blog ideas for tech bloggers useful?