I've been blogging for a long time, and when I wrote my first guest post, I learned quite a bit. I'm going to share the lessons I learned from my first guest post, that hopefully will help you, when you're blogging somewhere other than your own website.
5 Lessons I Learned From My First Guest Post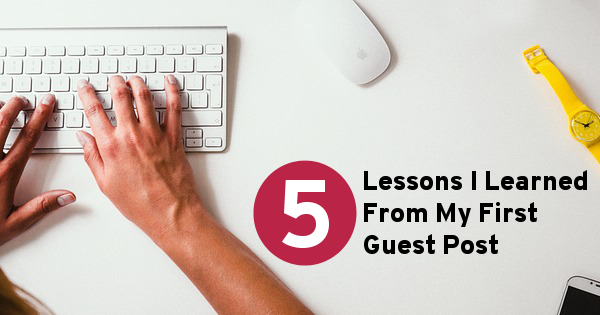 1 Create an awesome, but short and sweet author biography to share as a guest blogger.
You don't need to write your resume, or life's novel in your author bio. You may have some pretty awesome skills, but keep your author bio to the point.
2 Be observant of a website's content before you submit your own guest post topics.
Some websites have a lot of blog posts, and if you've not done your homework, the topic you submit could be rejected. It's a waste of your time, as well as the time of the website owner that you submitted that topic too. Additionally, make sure your topic actually fits with the website's existing content. Submitting a topic that is unrelated to the website, just makes you look like a boob.
3 Don't get upset if the website owner edits your work.
It is their website, and they want the article to look good, but also will do things like edit your grammar, add pictures, or even add links to it.
4 Expect to reply to comments.
If you really want to expand your reach and influence, you need to reply to comments on guest posts that you have written. Leaving the readers high and dry just makes you look like you don't care about them.
5 Promote your guest post on social network websites.
The website owner of the guest blog that you were publish on, will definitely be promoting the article, but you have to also share it with your own fans and followers. It just makes sense. They did you a favor by exposing you to their community, so you need to do the same. Guest blogging can be a win-win situation for both the guest blogger, and the blog owner, if both are doing all they can to promote the article.
Hope these lessons help you when you guest blog.
Do you guest post at any websites? Are you doing all of the points listed in this article?