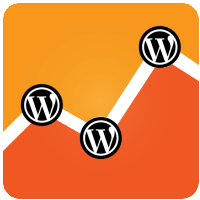 Google Analytics for WordPress is a plugin that makes it easy for both the basic and advanced user to implement Google Analytics into any website. It does require signing up for Google Analytics and adding your website, in order to track traffic. Let me clarify… it has the ability to help track your site in depth in order to give you an idea of what your visitors are interested in.
WordPress Plugin Review: Google Analytics For WordPress
When I say that it's easy for both the basic and advanced user, it means that if you're not familiar with using Google Analytics or not at the point in your website marketing strategy to take advantage of the campaign and extensive tracking features that Google Analytics offers, at least installing and enabling the basic features will suffice.
For the advanced user, the Google Analytics for WordPress plugin gives a lot of ways to track different areas of your website like users, categories, downloads, and much more. In fact if can even help you track specific campaigns you want to run, like one for a product!
For me, I love the ability to track my downloads. Word of caution: Make sure to check your file extensions and add the ones that you are using to the field that allows you to list what you want to track. By default, the file extensions have older versions of Microsoft like doc (Microsoft Word) and ppt (Microsoft PowerPoint), which in newer versions, they are docx and pptx.
If this plugin sounds enticing, you can download Google Analytics for WordPress in the the WordPress plugin repository.
I've put together a little walkthrough video of Google Analytics for WordPress.
This is the ONLY plugin I install on all my clients' websites these days, and the only one I recommend, especially because I know that they will eventually take advantage of some of the advanced tracking settings. I use to have the Google Analyticator plugin installed, but it really didn't have all the options I needed to track my downloads.
Do you use Google Analytics for WordPress? If so, do you like it? – What features do you take advantage of? If you don't use this plugin, which one do you use?