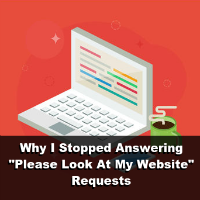 One of the most common things I see in help forums and even on comments in my blog are people requesting, "I need help. Please come and take a couple minutes to look at my website."
Years ago, I use to do free website reviews, and it was fun. I use to take a good amount of time looking through blogs and giving them a quick review that sometimes ranged between 600 to 2000 words. I use to even publish those website reviews in a blog post. In fact, I was a part of several website review communities, where we critiqued and rated each others websites. Again, it was fun at the time, and somewhat helpful.
However, it wasn't good enough advice for anyone to really push forward, and if done today, it would've not done. It merely pissed some website owners off if you called them out on their coding and design skills, or lack of.
I call these "surface" website reviews, or website critique. I find using the words "website critique" seems much more informal.
Why I Stopped Answering "Please Look At My Website" Requests
It was fun, sometimes created drama, but I remember that many times, even if looking at the surface, it worked because I invested time into doing the critiques. Some of the things I looked at were how fast the site loaded, the design, organization of navigation, how easy it was to surf the website, and then, the content.
The basics of web design and SEO have always gone hand-in-hand. It makes sense that if a person can't surf your website, then you can't get them do to what you want. Google works the same way. If Google can't adequately crawl your website, then how do you expect Google to properly list your website in the search results?
Offering a 5 minute or 30 minute website review or website critique is impossible. I've seen people try it, and guess what? Not only does the person offering the website review go over 5 minutes or 30 minutes, their report, whether in text form, or via screencast, goes beyond that time. AND still, they only cover surface issue. They don't cover things that people need to know about like your search engine results, the code itself, analytics, your calls to action, and about your focus keywords. There's a lot of things to go into reviewing a website. A glance won't help.
All of this is time taken away from making a living. That's what happened to me, and my reviews were a lot longer than 5 minutes of time.
If you're doing this, I'm not saying you should stop doing it too. When you're new or if you have a team, and have the time, sure, go for it. However, if you and your family are barely making rent or missing meals, you probably shouldn't be doing this.
This is a post on why I stopped, and giving the reality of why a surface type review probably won't fix the deeper issues. I also want to get you to think about how you spend your time online helping others, and what you can do to turn that critique into a possible small or large job. The biggest issues I had, was that I wanted to help so many people, and I was a "starving artist" at the time. I couldn't do the critiques, as I had to think about how I would pay rent or put food on the table for my kid.
You should think about how to market it so others can learn from it, as well as bring in business. For example, since I'm no longer the "starving artist", I've been mulling around the thought about bring back the website critique, post the review on the website, and allow people to pay to get further information into any possible problems. It's just an idea, but you're certainly welcome to take that idea and do whatever you wish for it to. 😉
There's a lot of new website owners looking for help. Pick and choose when you have time to look at other's website. Don't feel pressured if someone tells you that they need you to look at a website because it's an emergency. If it's an emergency, they will seek out someone and pay them, or they will eventually have to wait for a response, especially if the request came from a public forum or social network thread. Don't feel guilty if you have to refuse to do a critique, or tell people you may have to take a look some other time.
If you like helping people, do you help others other by looking at their websites and offering a critique? If so, how much time are you spending on the website critique?