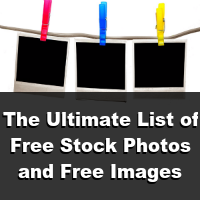 Not everyone can take a photograph, or create a graphic image like a professional, so that's why I've put together an ultimate list of free stock photos and free images. It's quite fine if you have little talent in the artsy department. However, it's not fine when you take an image and not give credit. Sure, for those who blog or create content, you would like to snag images on the fly, but tracking down the original artist is a pain.
There are a lot of stock photos and image sites that require you to give credit where it's due. However, there are many others that you are more than welcome to use their photographs or images, without credit.
The list of websites that offer free stock photos and free images allow you to freely take and use what they offer. Some of them also allow you to alter the image if you need to.
Please make sure to read the licensing. Some may require at least attribution somewhere, but allow you to edit and use the images.
The Ultimate List of Free Stock Photos and Free Images
The websites below are listed in no particular order. Unlike other lists of this type, I've decided to cut out screencaptures and extra images as this list is long.
Please note that this list will grow, and can be edited at any time.
1. Unsplash
Unsplash has a lot of stock photos that can be used however you wish. Yes, however you wish. This is because of their licensing, which is set to allow you to copy, re-distribute, and edit however you wish. You can receive updates by subscribing to their list.
2. Pexels
Pexels has an interesting name… between pixels and vexels. However, this site gives away 35 new stock photos each week that have been curated from several high quality resources.
Negative Space offers a lot of free stock photos. They add about 20 new ones each week.
4. Free and Original 600×315 pixel images from Blondish.net
These are great for social share images in blog posts.
Sometimes I use stock photos, sometimes I create my own. These images are totally free for you to use and actually fit perfectly in Facebook, Google+, and Twitter.
5. HubSpot
Hubspot has put together a resource section just for you to be able to grab some free stock photos.
6. Fancy Crave
Fancy Crave just asks that you never claim the stock photos as your own, and then you can use them to your heart's delight.
Death to the Stock Photo gives out free stock photos every month.
8. Pixelbay
Pixelbay has hundreds of thousands of free images.
9. Free and Original 200×200 pixel images from Blondish.net
These 200×200 pixel images are original and great for using as a featured thumbnail image. If you're lucky, there may be a matching 600×315 image in the link listed earlier. 😉
10. Picjumbo
Picjumbo allows you to use their free images for both commercial and personal use.
11. Kaboompics
Kaboompics has lots of high quality free stock images with a variety spanning from fashion to landscapes.
12. Polar Fox
13. Lock & Stock
At Lock & Stock, if you sign up for the weekly email list, you will receive new photos.
14. Skitterphoto
15. StockSnap.io
StockSnap.io issues tons of different and high quality free stock photos every week.
16. Barn Images
17. Picography
18. ISO Republic
ISO Republic shares images that are useful for bloggers and designer alike.
Startup Stock Photos has some images geared to professionals.
20. Getrefe
21. Life of Pix
All images can be used for personal and commercial use at Life of Pix.
23. SplitShire
SplitShire has a lot of variety in photos for you to snag.
24. Foodiesfeed
25. Gratisography
Gratistography is another Creative Commons Zero resource where you can copy, edit, and re-distribute their stock photos.
26. Magdeleine
27. New Old Stock
New Old Stock curates images from Flickr Commons' public archive. All of these images have been added because they've been vetted as not having any copyright restrictions.
28. Jeshoots
29. Jay Mantri
Jay shared 7 new photos every week.
31. Stokpic
32. Designers Pics
33. Cupcake
34. Snapographic
35. MorgueFile
37. Tinyography
38. Littlevisuals
39. Snapwire Snaps
40. Big Foto
41. Freerange Stock
43. Imagebase
44. Goodfreephotos
46. Unprofound
47. LibreShot
48. StockMedia
49. Shutteroo
50. OldDesignShop
51. WP Clip Art
52. Free Pixel Patterns at Blondish.net
53. Pdclipart
54. Free Emoticon sets at Blondish.net (smileys/ smilies/ emoji)
55. Open Clip Art
57. Clker
59. Freepik
60. VectorScout
61. New York Public Library – Public Domain Collection
The New York Public library released hundreds of thousands of photos under public domain, so its free to use and free to share. Please make sure to take note of the licensing as their collection is vast, and while their public domain collection is nearly 200,000 items, you may run into other copyrighted material. So, pay attention as you go through them.
Note: If you have a free stock photo resource that is not listed, please leave a comment below, and I'll take a look at it. If your free stock photos don't require attribution, and allow people to use them for free and personal use, then I will add them to this list.
Do you like and use free stock photos? Is your site listed above? Tell us why you like your favorite free stock photo or free images site?