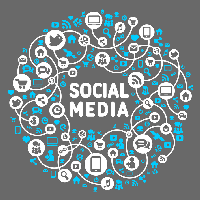 I was spurred on, by a conversation on Facebook that wasn't necessarily shooting down people about splitting hairs over someone claiming to have done social media marketing between 2000-2001. Yes, they were asking the entire group about a guy who said he did social media marketing before even the term was coined.
The answer is yes. They were doing social media marketing. There were forums and groups back in the day that gathered a group of people with similar interests. Social media marketing is designed for marketing online. There's a long list of communities like Yahoo! Clubs (which became Yahoo! Groups), eGroups (which became Yahoo! Groups), MSN Groups, LiveJournal, blogs, forums, chat rooms, IRC, social bookmarking sites, and more.
I remember someone tried getting me into Amway, through my biggest group, a 50,000 member group in Yahoo! Clubs, when I was a high school senior, in 1999. There were marketing groups and other interest groups that people shared their content for their business. I think a because it wasn't seen as much, it wasn't so obvious then. Some people confused it with spam, which was only if it was unrelated or unwanted in the group. However, others did share this content, whether it was by copying and emailing or copying and posting it in another group or forum (before Facebook, and Twitter, and others existed.)
SEO, marketing, blogging, and web design have come quite a way over the years. There are people online, who've been in advertising and marketing for top companies, and even top companies related to media (example: television and radio) for decades!!! This term is an adaptation for what they've been doing, except with a different vehicle.
It's all comes down to splitting hairs.
It doesn't matter that they were marketing online before social media marketing was a a twinkle in someone's mind. They were still marketing online to groups of people, by sharing content that was focused to gaining customers.
So, to explain social media, it's marketing, just with a different vehicle. That vehicle, being the Internet.