I made a set of simple social network icons for my clients as a default method, but after some careful thought, I decided to release this set. Currently there are 30 icons available. I am sure I will be adding more, but this is only the beginning.
I will be colorizing this set into several colors for your use. I know I will have my own colorized set to match my own website and from past experience, I know others look for specific sets and colors to match their site too.
In making these, I wanted to be simplistic and use some of my pixelling skills, but all keep some of the integrity of the brands.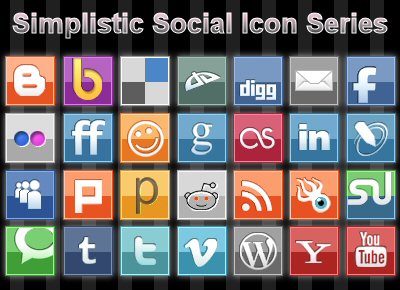 Icons available are:
Blogger
Yahoo! Buzz
Delicious
DeviantART
Digg
Email icon
Facebook
Flickr
Foursquare
Friendfeed
Friendster
Google
Last.fm
LinkedIn
LiveJournal
MySpace
Meetup
Plurk
Posterous
Reddit
RSS feed icon
Squidoo
StumbleUpon
Technorati
Tumblr
Twitter
Vimeo
WordPress
Yahoo!
Youtube
Simplistic Social Icons - General Set (1768 downloads)
Let me know any requests you all have. Please only request those that you actually do use.