What is the best way to make connections with other bloggers? That's a really good question, even if for some, it seems to be an easy answer. Actually, it's easy to connect, but it's harder to get them to do something, like engage with you. I'm not only going to give you one way, but several.
What is the Best Way to Make Connections with Other Bloggers?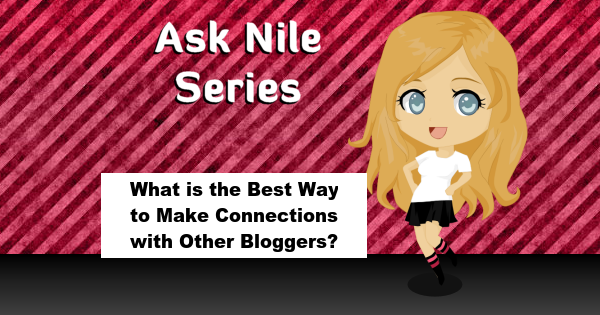 The oldest and most traditional way to make connections with other bloggers is to comment on their blogs. If you're truly interested in your own niche, or any others, the best compliment you can give a blogger next to sharing their article or subscribing to their newsletter, is to comment. Don't just leave a simple comment or drop a link to beg them to come to your website. Leave a thoughtful comment related to the post's topic, that let's you stand out from others. It shows them that you're interested, and maybe even want to carry on the conversation. Also, don't just comment one time. Make an impression by coming back several times.
Another way you can make connections with other bloggers is to do interviews of them. Research the blogger, and be thoughtful with your questions. When you inquire about interviewing, tell them why you'd like to interview them, and why they would be a great fit to be featured in front of your readers. I've gotten a lot of interview inquiries, and the majority of them have been canned responses. I usually refuse those because I don't feel like they really care about myself or their readers, and usually it's reflected in questions that haven't been researched.
Aside from interviews, you can do a roundup of "expert" bloggers (people you feel are experts), and ask them all the same question. This allows you to feature several bloggers. They get to connect with you, as well as others you've featured.
You can also connect with bloggers in various communities. For example, Facebook has a lot of blogger communities that are active and allow bloggers to interact every day. You can also try joined some Twitter chats on Twitter to connect with other bloggers. For example, #blogchat is held every Sunday evening around 8PM Central US time, and has a focused topic that brings in a lot of bloggers.
Now, one of the ways I've been able to connect with other bloggers is meeting them at local Meetups and conferences. This allows people to connect face to face, and sometimes make a more meaningful connection than in a tweet, a Facebook post, or a blog post. Some of my closest friends and longtime clients are people I've been lucky enough to meet in person, whether a small social meeting, a Meetup, or a conference in another city, like WordCamp (WordPress conference.)
The last suggestion I have is hiring a blogger to do consultation. The problem is, that there are a lot of bloggers out there that feel entitled to free information that may not help their website's particular issue. Hiring someone to occasionally mentor you, builds a great reputation the other blogger, allows you to learn and grow as a blogger, and could be a great way to make connections with other bloggers. Sometimes your mentor will direct you to other bloggers who are doing it right, and are doing exactly what you want them to do. Sometimes you might get a direct introduction with other bloggers too.
How have you made connections with other bloggers? Please share your own tips in the comments below, if you have any that I've not mentioned.