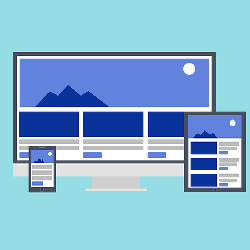 It always seems like Google is making up new rules, but it's not Google. It's the end user that is making up the rules. In fact, in this article, around August of 2016, a user data survey said that just in the US alone, mobile phone users were spending an average about 87 hours a month on their phone, surfing the Internet. That's just in the US.
That means, as a website owner, you have to think about your mobile users, and even tablet users, aside from your desktop users. You need a mobile-friendly site. Mobile-first indexing started being done by Google, by the end of 2016, meaning that you got ranking benefits for having a mobile-ready theme.
Google isn't doing this to be a meanie. They want to be able to help you become more conscious about your website visitors, and be able to give them an easy, secure, and accessible website in any device width. It's all part of Google's Quality Guidelines.
So, for the WordPress user who doesn't have a mobile-ready site, this doesn't necessarily mean you have to re-build your whole site. There are plugins like WPTouch Mobile plugin that can give you a simple mobile version of your website, for free. There are a lot more plugins than WPTouch, but honestly, most bloggers reading this site, are usually frugal or new bloggers with low-to-no budget.
For the new and basic WordPress user, with a low budget, choosing a responsive theme, works well. Many of the themes at WordPress.org are responsive and free, including Twenty Seventeen.
The benefit of the plugin, is that you can either provide a quick and easy mobile-ready theme for your visitors, but the downside is that it may bog down the site. The same can be said of some responsive themes, as some themes don't get rid of areas, but rather, move them to other places. For example, some themes will take a 2 column layout, where the content is positioned on the left-side, and the sidebar is on the right, and as the device's browser is smaller, the sidebar is shoved under the theme. In some ways, this is not good. However, I did my homework at least, and found that the plugin Widget Options allows you to hide certain plugins in mobile browsers. Phew! Pretty cool, right? (P.S. – If you're using Widget Logic, you can replace it with this.)
So, really, I may be asking in the title of this post if your website has gone mobile-friendly yet, but I really am getting to those who are making excuse. You have none. Go and get mobile-friendly!