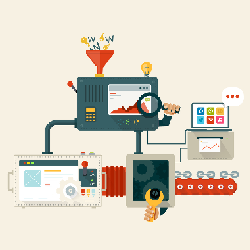 Linking to others blogs is a MUST for bloggers. It's how the Internet has grown so much over the years. It's how people that would've never met or connected, are actually meeting and connecting. I've noticed over the years that some type of Grinch movement has been happening over linking to other bloggers.
I kind of imagine that if you're a blogger that's not linking to others, you're just standing alone on a soap box, trying to yell at a passing crowd. Maybe a couple glance your way, but the majority just move along and ignore your yelling.
For those linking, I like to think it's like you're in a crowd and eagerly meeting people, and shaking their hand. You're welcoming feedback from those you've linked to, and their crowd. In return, you're trying to share and authenticate your knowledge to your own budding blog reader community.
Rand Fishkin does an awesome job summarizing why you should be linking out to others. I'll summarize it here, but you should check it out. He basically says.
It's a link that can be tracked and possibly reel in people curious enough to want to know why you linked to them.
You add more value to your website by linking to other websites, and eventually become a great resource for your visitors.
Linking out creates trust with search engines like Google, especially if you're continuosly linking to quality content.
Linking out attracts other website owners who do the same, and may contact you with quality content that they will suggest to you.
Just linking out encourages participation and frankly, what I like to call "sharing the link love."
Sure, you do want to link to other articles on your website, but you can raise the value of your website by making sure you can completely fill the need of your visitor. They landed on your website because they were looking for something, and honestly, if you think you're a know-it-all, you're not. There's someone out there that always knows more, and providing excellent content that your visitors could end up loving. So, why not link to them? It's a win-win because you get to learn something new, and your visitors get to learn it too.
Go forth and share the link love by linking out to others.