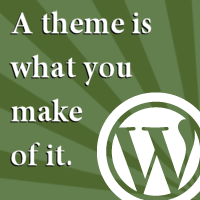 WordPress themes can be tricky to learn how to build. There are a lot of great resources explaining how to build a WordPress theme from scratch, but the end result depends on the designer. My philosophy when designing and developing themes is – A theme is what you make of it.
There are so many opinions running around about the best way to build a site powered by WordPress. Often this ties in with the level of the designer or developer, especially their imagination.
However, a lot of designers and developers are hung up on whether building a theme from scratch, building off of an existing theme, or using a framework is the best method. The best solution is what works for you.
If you're a designer with enough knowledge in HTML and WordPress markup to understand basic themes, a well done existing theme is great to work with. In this method, you usually pick out a theme that looks somewhat similar to what your final design is suppose to be, and customize it by altering the CSS and maybe even some minor HTML.
WordPress theme frameworks are usually built so that you can build a child theme off of it without having to alter the parent theme. This works great for most levels of designers and developers because the parent them has been thoroughly tested, and has documentation to get around altering the theme.
For developers, any method is great. Getting around any theme should be a breeze. However, frameworks are often suppose to be built to streamline work. This is great to help toward a faster project turnaround because the child theme only needs to be built. However, in the same instance, a lot of developers also build their own theme framework from scratch that can be easily altered. This is done so the developer is extremely knowledgeable with exactly where each element of the theme is located and it's easy to customize at a whim.
For any developer to just say some theme or theme framework sucks, is ridiculous. Now, if a theme is really poor in design and markup, that's a different story. However, in a lot of cases, it means that the developer lacks an understanding or will to learn theme.
A huge example of what I'm talking about is the fact that when I went to WordCamp, I was in the midst of a conversation with a couple developers who went on to say that StudioPress Genesis sucks. I want to note that these were very well known people in the WordPress community, but I will not tell you their names, and I won't say which WordCamp this happened at. This is not a point, and I'm not here to make fun of people.
Because I work extensively with designing and developing solutions with WordPress, and specifically choose Genesis a lot because it does streamline my work, I was really surprised to hear this. Most of their excuses had very valid solutions. Example: "I can't alter the theme the way I want and need specific elements in areas of the site. I don't know how to replace these areas without messing things up."
The solution I told them was that it takes using a hook to remove the area, and then re-writing the whole area with and adding it back with a hook. They responded with various versions of, "Oh, I didn't know that."
A lot of frameworks, like Genesis, you can still fall back on using PHP, WordPress loops, and more. You're not limited unless you don't know how to code or don't want to. I'm not perfect at coding at all. I just know that there is ALWAYS a solution.
Sometimes, I get clients who want me to work with a specific theme and ask me if I have worked with it. I tell them that it doesn't matter if I have worked with it or not because I know code, and I know WordPress.
So, I want to conclude by re-emphaszing – A theme is what you make of it.
Now go forth and create a bad ass WordPress powered site.