I love giving out ideas for blog posts. I know it can be struggle to find topics to tackle, but I always have ideas. Below are a few niche I picked for some Spring time related blog post ideas. I'm sure I will have another roundup in the future, but this is a good start, right?
26 Blog Post Ideas For Spring Time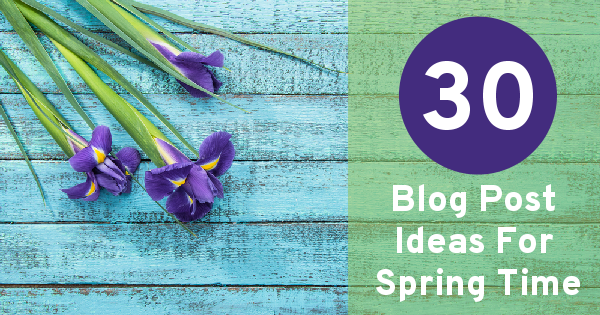 Blog Post Ideas For Spring Time For Fashion Bloggers
Fashion picks for Spring this year
History of Spring fashion
Roundup of Designers most known for their Spring time fashion collections
Best colors in clothes to wear during spring
Best makeup for Spring time
Fashion events during spring
Celebrity fashion trends during spring
What fashion and lifestyle magazines are talking about during Spring
Roundup of blogs in niche with Spring related topics
Blog Post Ideas For Spring Time For Mommy Bloggers
Product roundup for products that are useful during Spring
Kid's fashion picks for Spring time
Desserts that are great during Spring
Dinner ideas that work well for Spring
Spring time DIY roundup
Spring cleaning tips
Product review for products typically used during Spring time
Spring time destination ideas for the family
Blog Post Ideas For Spring Time For Web and Graphic Designers
Round up of Spring time web design ideas
Graphic roundup of Spring items
Freebie graphics that are for Spring
Web design template that has a Spring flavor
Tutorials for creating graphics geared toward Spring
Roundup of Spring time graphic tutorials
Blog Post Ideas For Spring Time For Social Media Enthusiasts
Social media hashtag roundup for Spring
Springtime social media graphics roundup
Free Spring time graphics for social media use
Other niche
Review of gadgets used during Spring time (Technology and Gadget)
Roundup of plants to start planting during Spring (Agriculture)
Roundup of Illnesses most common during Spring (Medical)
Roundup of Spring events in your local area (Lifestyle)
Some of these ideas may spark multiple posts. I hope that you find these blog post ideas for Spring time useful.