If you need help with your WordPress site now, but don't need a full service, I'm offering to do simple WordPress services for $50 per hour. This is pre-paid only! This is non-negotiable as my hourly rate is normally $75.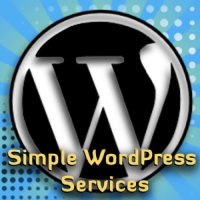 Below are just some examples of simple WordPress Services.
Update your WordPress site
Back up your WordPress site
Minor CSS tweak or CSS styling to your WordPress theme
Minor removing or adding areas to your theme
Troubleshooting a WordPress error
Install and set up a WordPress plugin
Install WordPress
Update WordPress plugin
So, if you need several jobs done, you will need to list all your jobs that you need done so I can give you a correct estimate of time.
Notes about service:
In the case that your issue cannot be resolved, you will receive a refund. It is very rare that such a thing would occur.
This is not a service to design website headers.
This is not a service for speed optimization OR SEO work.
I only accept PayPal for payment.
The time it takes for your project to get done actually depends on your promptness to pay your invoice as they can be finished in the same day or next day.
Please be prepared to either have a WordPress login created that has administrator level access. For security purposes, please don't send your own username and password.In some cases, you may need to provide a FTP login as well.
Note: Your information will never be shared by anyone.
Step 1. Fill out the form.
Step 2.
Within 1 to 24 hours you will receive an email confirming your order (from me personally) and verifying information before I begin. I will ask for your login information and FTP information. I will also send an invoice via PayPal.
Step 3.
Pay for your service, or services needed. I will start on your project as soon as payment and information is received. Your job will be completed within the same day or up to 48 hours after payment is received.